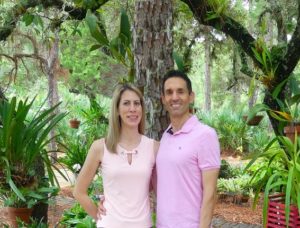 Dear Birthparent…
As you read this please know we are incredibly thankful for you and admire your love and courage in considering an adoption plan for your baby.  We understand this is a deeply personal decision. We promise you your baby will be surrounded by love and laughter, our home and our hearts will always be loving, and you will forever have a place in our family. Whatever you decide, we hope for the best for you and your child. We would love to talk to you more about your hopes for the future.
---
About Us…
Christine is a Speech Language Pathologist and works everyday helping special needs kids overcome challenges. She is patient, kind, and nurturing. Robert works in IT/Finance and is always optimistic and fun-loving. We love to be outdoors, often biking or walking around our neighborhood to take advantage of the beautiful sunny weather in central Florida. We both grew up in the northern part of the U.S., but we met in Orlando and consider it home. One of our favorite hobbies is traveling. We've circled the globe together, living in four different countries, before returning to Florida to settle near friends and family.
Our Home and Pets…
We live in a planned greenspace community with miles of paved biking and hiking trails, several playgrounds, two community gardens, a beautiful pool complete with splash buckets and water cannons, picnic areas, an outdoor exercise trail, disc golf course, and tons of ponds. Our home is spacious, with a large yard where we enjoy playing cornhole and ladder ball, gardening, roasting marshmallows, and grilling out with family and friends. We love to go for bike rides together on weekend mornings and stroll around the neighborhood every night. There are four top-rated schools within walking distance. Our community is very family-focused, often holding themed events and seasonal activities (e.g. movies in the park, NASA Space Day, mobile ice rinks during the holidays, traveling petting zoos, and more!).
Our Family…
Our families are diverse in both ethnicity and family make-up. Robert is one of five siblings, all of whom grew up in Michigan. Christine is one of three who grew up in Pittsburgh. Christine's parents and Rob's sister and brother-in-law live only a few hours away and everyone is very excited to welcome a new baby into our family. We're very close with our brothers and sisters and get together with family often. Our four nephews and our niece love to visit (particularly in the winter!) and we enjoy taking them to the beach and theme parks nearby.  Often, our best visits and memories are made by simply spending time at home, playing games and laughing together.
Our Journey to Adoption…
Adoption has always been our plan. We discussed it early on in our relationship and knew it was the right choice for us. We have always had wonderful relationships with our niece and nephews and have looked forward to having children of our own. We love to imagine family outings, special moments, and teaching our children as they grow. We've been together for 14 years and adoption has never been far from our mind. We're excited and hopeful to be chosen as adoptive parents.
Fun Facts…
Name: Robert

Occupation: Business Architect

Education: MBA

Favorite Food: Burrito

Favorite Hobby: Reading

Favorite Movie: Last of the Mohicans

Favorite Holiday: Christmas

Favorite TV Show: Psych

Favorite Activity: Golfing

Hidden Talent: Cooking

Guilty Pleasure: Comic Books

Name: Christine

Occupation: Speech Language Pathologist

Education: Master of Education, Master of Speech-Language Pathology

Favorite Food: Fried Pickles

Favorite Hobby: Baking

Favorite Movie: When Harry Met Sally

Favorite Holiday: Christmas

Favorite TV Show: Gilmore Girls, Schitt's Creek

Favorite Activity: Vacationing

Hidden Talent: Word Games

Guilty Pleasure: Reality TV
---